We have already talked about the types of poker and the size of the bets, it's time to focus more specifically on the disciplines, the main of which are multi-table tournaments (MTT), single-table type "sit and play" (Sit and Goes, abbreviated as SnG), ring game for cash (cash game).
Multi-table tournaments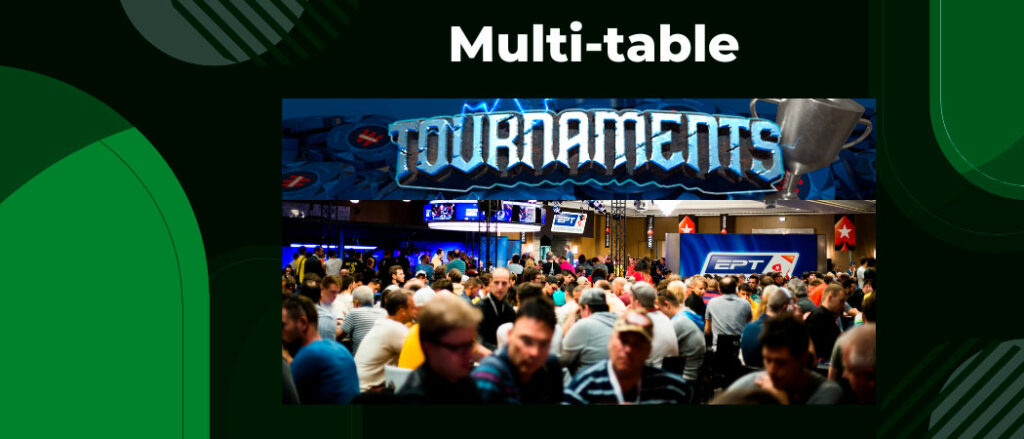 It is thanks to MTT that poker has become so popular. It is in these tournaments that you have the opportunity to win hundreds of times more buy-in. It was in this discipline that amateur Chris Moneymaker, breaking through the sieve of online satellites for a few dollars, ended up winning several million at the World Cup.
Now directly about the features of MTT. You can get into the tournament by paying the required buy-in, for which you will be given a certain amount of chips. The game goes on elimination until the winner is determined, the blinds are constantly increasing at regular intervals. The money is received by a certain number of participants, for this, it is not necessary to take the first prize places.
The main advantage of multi-table tournaments is a big prize for little money. But for this, in most cases, you need to get at least to the final table, otherwise, the reward will not be so great. This advantage for most players covers the disadvantages, which will be discussed below.
You can't interrupt the game in the tournament: if you need to leave, then you will go into absence mode and your entire stack will be "eaten" by the growing blinds. Tournament breaks are usually announced for 5 minutes every hour. Tournaments over 8 hours in length are not uncommon, so consider if you can spend enough time playing.
During your early stages as a poker player, you need to play very carefully in early stages of tournaments. Patience and self-discipline are essential requirements in MTT, fans of crazy action are better off looking at something else. It remains to add that most of the multi-table tournaments are NL Hold'em.
Single table tournaments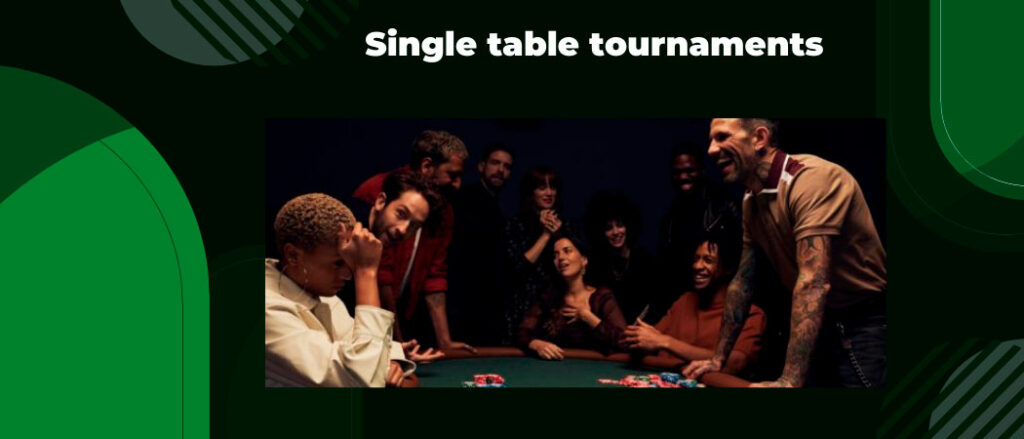 The vast majority of single-table tournaments are held in the SnG format: the tournament starts as soon as the required number of participants is reached (depending on the table size). The rest of the game follows the same principles as in MTT, SnG is their kind of mini-analogue.
The average duration of a one-table tournament with a normal rate of growth of blinds is about an hour. This is much less than the multi-table option, which gives more room to manoeuvre over game time. But you still cannot leave the tournament before it ends.
The poker community considers SnGs to be one of the candidates for extinction. The fact is that this discipline lends itself very well to calculation, therefore, in every situation, there is a mathematically ideal solution. According to many, this leads to the fact that experienced high stakes players familiar with this concept cannot gain an advantage over each other and play at near zero level.
We hasten to reassure you – all this is very far from the truth. The element of creativity in poker has not been cancelled, and constantly developing and progressing players continue to play and make a profit. The main thing is not to stop developing, for which our poker school was created to help you.
Don't forget about non-standard SnGs, where the influence of mathematical calculations is not so great. For example, hands-up options (heads-up play). In any case, despite all the sceptics, there are a lot of tables in this discipline in any room, you rarely have to sit and wait.
Ring game
The ring game (cash game) is the most popular discipline in poker. At these high-limit tables, millions of dollars change hands every day, and the names of players like Phil Ivey or Victor Blom are always on the books.
If you don't play at high stakes limits, then you certainly cannot win millions in one hand, but the ring game has a number of advantages in addition to large amounts in the pot. The cost of losing one hand is not so high here: you can always buy more, and not get lost for good, as in a tournament. You can leave the cash table at any time – a luxury not available in tournament poker.
The cash game can be recommended to almost all novice players. There is room here for action and discreet tactics. The choice of games in this discipline is diverse, all have their own characteristics, advantages and disadvantages.
What's the best poker discipline?
Each player will defend exactly his favourite game and he, in general, is right. Some people like the possibility of winning large sums in MTT, some like the convenience of a single-table tournament format, while others prefer the variety and creative process of cash games.
Which one is right for you? We do not know. Therefore, we offer you high-quality teaching materials in all currently widespread disciplines. Perhaps you are hiding a future high stakes regular, or maybe a future WSOP champion, who knows?
Our main advice is to concentrate on learning one thing, at least initially. Better to be a good player in one way than mediocre in all. We hope we helped you make your choice, and now we are waiting for you at the lessons of our poker school.
Well, for those players who have not yet decided on the choice, we suggest that you familiarize yourself with the rules of Texas Hold'em – the most widespread and popular type of poker in which you can choose one of the disciplines.